Main Content
Research is divided between the Lab team and the Field team. In short, the lab team studies the fungal aspect of White Nose Syndrome, and the field team studies the effects of the syndrome on the local populations of bats.
In the Lab
Our goal is to test the effects of volatile compounds from mushrooms and molds as potential fumigation agents against P. destructans.
One of the most abundant aroma compounds produced by mushrooms and molds, mushroom alcohol (1-octen-3-ol),1 serves as a semiochemical (signaling molecule) for many arthropods2. It is used to enhance mushroom flavor in foods and is generally regarded as safe (GRAS) by the Food and Drug Administration3. Furthermore, it attracts biting insects4 and has received EPA clearance for use in insect lures5. Another mid-length alcohol, 1-hexanol, has also been found to be biologically active against fungi and has been tested for controlling postharvest fungal pathogens6. Earlier work in our laboratory has shown that the vapor-phase of the medium chain alcohols, 1-octen-3-ol and 1-hexanol, both exhibit fungistatic (stunting of fungal growth) properties against Aspergillus niger and Penicillium chrysogenum7. Other research groups have shown that low concentrations of 1-octen-3-ol inhibit growth of Aspergillus nidulans8 and can control Lecanicillium fungicola, a fungal parasite of cultivated white button mushrooms9. We hypothesize that these vapor phase alcohols might be effective against P. destructans.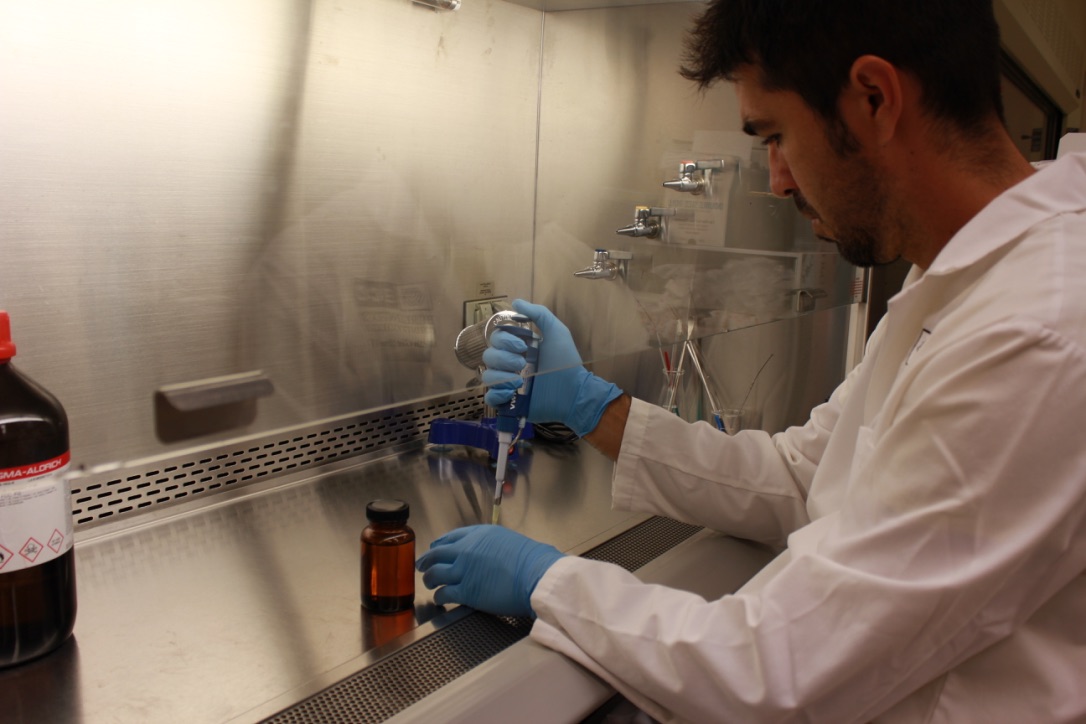 In the Field
The field team aims to study and understand the changes in the overall populations of bats in the United States.
The bats that are seen on Staten Island are temperate zone bats. Throughout the warmer months, they migrate between winter hibernacula and summer hibernacula. During the winter months, bats hibernate in caves, trees, abandoned buildings, under bridges, or in people's homes. Lasiurus borealis, the eastern red bat, has been found to migrate southward in the winter, with some found dormant within their winter range (Popa-Lisseanu & Voigt 2009, Findley et al 1993). Lasiurus cinereus, the hoary bat, has shown a latitudinal pattern of seasonal change in distribution, with females leaving the hibernacula earlier than males to reach their summering ground where their pups are born10.
The Staten Island Museum has a few state census records of bats over the years. William T. Davis published "Staten Island and its People" in 1929 where 6 different bat species were recorded to exist on Staten Island: Little brown bat (Myotis lucifugus), Silver-haired bat (Lasionycteris noctivagans), Georgia bat (Pipistrellus subflavus), Big brown bat (Eptesicus fuscus), Red bat (Nycteris borealis, now Lasiurus borealis), and Hoary bat (Lasiurus cinereus). The Field Team studies these temperate bats that live and move through Staten Island, NY. We aim to understand the effect that WNS has on the populations of these bats, and the effects on the ecology around them.
1Tressl et al. 1982; Korpi et al 2009
2Davis et al. 2013
3Zawirska-Wojtaslak 2004
4Luntz 2003; Cilek et al. 2011
5EPA 2015ab
6Cruz et al. 2012
7Yin et al, 2015
8Herrero-Garcia et al, 2011
9Berendsen et al 2013
10Popa-Lisseanu & Voigt 2009, Findley et al 1993